Profetacuentalabiblia 3.000.000 de lectores en nuestras cuentas!!!
3,000,000 readers Profetacuentalabiblia
12000 STATUE OF YEARS gives away the face of Jesus, EXCLUSIVE
What they propose scientists
Richard Neave, an expert in facial retired British forensic reconstruction of the University of Manchester, has managed with his colleagues in the UK and Israeli archaeologists reconstruct what might be the real aspect that Jesus of Nazareth was, reports the newspaper.
... Was based on studies of Semitic skulls found in today's Israel, the researchers obtained a very different man white face and straight hair clear that represented several generations of artists throughout the history of Christianity.
What tells the story
Determine the actual appearance of Jesus is complicated by the absence of physical descriptions in early Christian texts.
The funny thing is that cases are reported in which the inhabitants of the time confused Jesus with others to see him after his resurrection in these texts. These cases are described even in the New Testament.
First lie, he speaks of lack of physical biblical descriptions of Jesus:
The first book of Samuel describes David as follows:
he sent them for him, and he did enter. He was
blond
* beautiful eyes and good -looking. And the Lord said, "Rise and anoint him, for this is."
(1 Samuel 16.12, Reina Valera Revised 1995) ** However, we see in other versions of the Bible the first part of the same verse: •
Jesse sent for him. And the boy was
rosy skin
***, friendly and good -looking
. (1 Samuel 16.12a, NRSV)
John 9:34
they answered and said, Thou wast altogether born in
sin
, and do we teach us?
And they cast him out.
He said in the article is absolutely false, that Jesus after the crucifixion confused him with the rest (not to mention the disfigurement of the face) and so the lack of physical descriptions of Jesus in the bible it is also false and lack of images is because there is a commandment about not create images, just for that, not even Moses or Elias there are images and icons of Judaism.
Or Quaternary period Neozoic developed in the Cenozoic era, which extends from 2.588 million years ago to the present. The Quaternary is divided into two periods. The Pleistocene, the first and longest time period, by glaciations cycles and the emergence of the first humans (Homo habilis) was characterized; this time extended from 2.588 million years to 10,000 years BC The Holocene, the second time the period was characterized by the deglaciation and the emergence of human civilization; This period extends from 10,000 BC to the present.
the stones speak, the truth of the truth about man and perfect origin is tell the stones, praise the Lord, it was all true, humanity was perfect, by serpent cults and wisdom was corrupted and led to the wild . say that man appeared on earth 6,000 years ago, an absurd and liquidated by the evidence wordlessly made ​​this.
This statue found at Gobekli Tepe, sculpted by hunter-gatherers about 11,000 years ago, has nordico-red features, as planooccipitalia.
It has been found at the site a small statuette of Dea Mater
http://www.taringa.net/posts/imagenes/12971266/Lugares-con-historia-yapa.html Science says the Bible created on the face of Jesus and I believe him , and you should do the same as they are liquidated in an atheism without reason, false, unscientific and ignorant fanatic, rather foolish, blind without worthy intellectuals to discuss with us. Do not worship or believe that was God, but not invent the biblical facts about him were not true because it is the purest ignorance, a primitive atheism very absurd falsehoods, fanaticism of militant atheist blind, I gain nothing with you, nor do I want to convert my credo is more, I would cast because I think there is no room for more people and less so, I think our side is Elite, but I have to, among other things because Elvis Presley (Christian Worthy) died in despair looking in esoteric books the face of Jesus according to science, she might not have died young to read something like this and not Christians and esoteric corrupt, I am more than them all and only write 10 percent of my private books, the rest is private and personal, even had written this, but because I need to call out some of you, we'll see who hear, I hope to be worthy of such a call to something greater.
When speaking of coming intelligence from beyond commonly such an opinion from the concrete scientist is banished because it was believed that intelligence is the product of a nerve in learning system, a brain in some way, always a nervous system that is able to learn only by evolution.
For that reason science breaks in their efforts to understanding the so-called evolutionary leaps of man, as happens in a social stage and development to another in centuries of history and back suddenly and go to the more distant history and see even more progress than in decades closest where is the linear evolution that tell us?
I mean discoveries like this, on the one hand it shows a way of life cannibal, to the point of hunting families, save them as cows in a cave and eating them raw, opening up their skulls to lick the brain. On the other hand the machine Antiquera.


Antikythera Machine
"There is no other instrument like this. Nothing comparable appears in the ancient scientific and literary texts. On the contrary, what we know of science and technology in the Hellenistic period, would have to conclude that a device could not exist , "he wrote physicist and historian of science British Derek J. de Solla Price in scientific American in 1959. After years of study, he believed that the ancient artifact known as the Antikythera machine was an astronomical calendar, "the venerable progenitor of the current plethora of scientific apparatus" . British researchers, Greeks and Americans announced today in Nature that have deciphered their secrets. It is one, though much more complicated than De Solla Price suspected astronomical calculator A storm deviated from its route a Greek fishing boat sponges shortly before Easter 1900. they reached the small island of Antikythera -a halfway between the Peloponnese and Crete- and when submerged, found 61 meters down the remains of a Roman ship which had sunk to 65 BC (BC) . For a year and a half, pioneers of underwater archeology of the wreck took bronze and marble sculptures, vases and many small objects. When examining the remains in 1902, Valerii Stais, director of the National Archaeological Museum, discovered a mass of wood and bronze artifact looked like a gear. It was a piece of Antikythera machine. 928 Technology XXI century The device is a mechanism of bronze and wood the size of a shoebox: 31.5 centimeters long, 19 wide and 10 thick. Originally, the system of cogwheels was protected by a wooden box, now almost totally lost. That box had a front door and a rear, "in astronomical inscriptions covering most of the outside of the mechanism , " explains Michael Edmunds, an astrophysicist at the University of Cardiff, and colleagues in Nature. Until we have reached 82 pieces of aircraft, five of which include part of the covers with the instructions. Edmunds and his team have examined the remains with the most modern navigation systems. In autumn 2005, they moved large machines to the Greek capital, given the fragility and value of the pieces, which are kept in an urn under controlled conditions. Hewlett-Packard experts took digital images of the pieces of metal and wood, which were then examined with an X - ray scanner High resolution X-British company Tek Systems, 8 tons of weight. The two companies are part of the Research Project of Antikythera Mechanism (AMRP), along with the universities of Cardiff, Athens and Aristotle of Thessaloniki and the National Archaeological Museum, where the device is. The technology of the XXI century has allowed better to see the font style of the inscriptions, common between 150 and 100 BC. In addition, it is now twice as readable text at the time of De Solla Price and that, along with the number of teeth of the wheels, has helped determine what it was forthe machine. The front dial is used to know "the position of the sun and moon in the zodiac, and a corresponding 365 - day calendar that could be adjusted for leap years." The two rear dials indicating time in two astronomical cycles: Calipo- of 76 years and 940 lunaciones- and Saros -of lunaciones- 18 and 223, used to predict solar and lunar eclipses. In addition, the authors believe, by inscriptions, which may have gears -today back lost to predict the movement of the planets. Anticythre1bs4
"Astronomy exact"
scientists have identified AMRP the wreckage of the mechanism a total of 30 gears made hand and believe that the original machine took another seven, while De Solla Price proposed in its day a reconstruction of 29 wheels, with two other hypothetical. The science historian Francois Charette, of the Ludwig-Maximilian University in Munich, said that the new model is "very seductive and convincing in every detail" and forced to leave the De Solla Price. "This device is extraordinary, unique in its kind. The design is beautiful, and its exact astronomy , "says Edmunds. "Whoever did it did extraordinarily well." "The calendars were important in ancient societies to establish agricultural activities and dates of religious festivals. Eclipses and movements of the planets were often prophetic interpretations, while the quiet regularity of the astronomical cycles authors, who include astrophysicists, mathematicians, philologists must have been philosophically attractive in a violent and uncertain world , "explain and archaeologists attending today and tomorrow in Athens to an international conference on the Antikythera machine. The device is so complicated that there is no other comparable until the first mechanical clocks, and well into the Middle Ages appear. " It raises the question of what else did the Greeks of the time.For its historical importance and rarity, I consider it more valuable than the Mona Lisa ", says Edmunds, whose team now plans tomake a computer model of the machine and, eventually, a real one. Antiquitera3antiquitera1 - See more at: https: / /misterios.co/ooparts-la-maquina-de-antiquitera-tecnologia-perfecta/#sthash.oKBCsIkl.dpuf
can not decades ago also saw this cannibalism?
Not still exists even today?
Is there now more people in Africa these old people primitive modern conditions?
So why so determinedly assert that we come from monkeys by evolution
confirmed by social progress?
Are not there plenty of samples immense architectural advances million years ago while these savage acts and forms of primitive life?
Is not it well and also world today
?
In prehistoric see the same scenes and contrasts is not true even today? Why say so absolutely evolution from an absolutely arbitrary tests? no aliens stuck in the matter, the thing is simpler than that, even today can be seen and understood.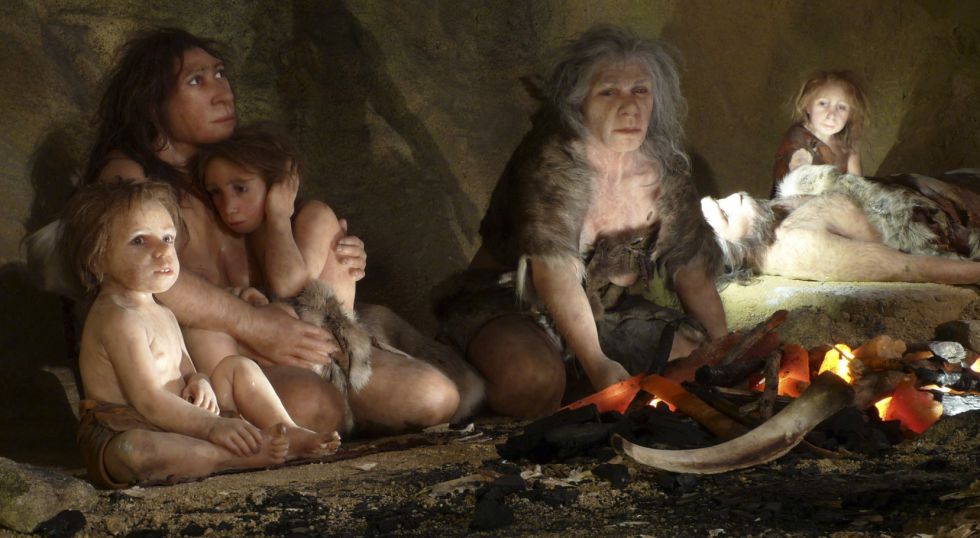 Electrical synapses have three important advantages:
Electrical synapses possess a bidirectional transmission of action potentials, whereas the chemical synapse only has the correctional communication.
In the electrical synapse is a synchronization in neural activity which makes coordinated action between them possible.
Communication is faster in the electrical synapses in the chemical, because action potentials pass through the channel protein directly without the release of neurotransmitters .
A mold with ability to learn
The Physarum polycephalum consists of a single cell and is devoid of nervous system. However, this unicellular organism, which can move through the understory soil in search of food, it is also able to learn in a few days, according to French scientists demonstrate for the first time in an experiment. The finding sheds light on the origin of this learning ability in evolution and in other organisms such as viruses and bacteria. SINC | | April 27, 2016 1:01 } Physarum polycephalum about 10 centimeters in diameter, composed of a single cell, is grown in the laboratory. / Audrey Dussutour (CNRS) Physarum polycephalum about 10 centimeters in diameter, composed of a single cell, is grown in the laboratory. / Audrey Dussutour (CNRS) memory and ability to learn are key elements in the animal world.The animals learn from their experiences and adapt their behavior based on their experiences, especially if they live in unstable and dangerous environments. This ability to possess the bodies with a brain and a nervous system, but what about single - celled organisms? "This giant cell shows amazing skills such as solving a maze, dodge traps or make the most of their nutrition , " the researchers say a biologists team Research Center for Animal Cognition at the University of Toulouse III-Paul Sabatier and the National Research Center scientific (France) has demonstrated for the first time the slime mold Physarum polycephalum, also known as mold of many heads, devoid of nervous system is capable of learning. According to the study, published in Proceedings of the Royal Society B, the agency celled, which can cover surfaces that reach the square meter in the understory and move in their habitat at a rate of five centimeters per hour, can reproduce a form of learning called habituation. "This giant cell shows amazing skills such as solving a maze, avoid traps or make the most of their nutrition, but so far we knew very little about their learning ability , "the authors say, for whom Physarum polycephalum is a distant relative of plants, fungi and animals. to understand it , scientists conducted an experiment nine days in which they confronted several groups of this eukaryotic organism - but inofensivas- bitter substances such as quinine and caffeine, which had to cross to reach a food source. A third control group had to go through the same path without substance. Learning to accustom work reveals that at first the molds were reluctant to go over these bitter compounds, but throughout the day learned that they were harmless and they were crossing the ever faster. "After six days behaved in the same way as the group did not face any substance", emphasize the scientists. The finding of this ability in a unicellular organism for understanding the origins of learning that precedes the nervous system the work shows that the cell has learned to stop fearing and ignore a harmless substance that has faced several times, a phenomenon scientists call habituation. After two days without contact with this bitter element, the cell returns to its initial behavior of mistrust. However, a mold used to caffeine manifests behavior rejection of quinine and vice versa. For researchers, habituation is a form of rudimentary learning that has been characterized in a mollusc of the genus Aplysiadenominado lumpfish, but that exists in all the animals. The finding of this ability in a unicellular organism, which emerged 500 million before the human being, to understanding the origins of learning that precedes the nervous system. "The study opens the possibility of seeking other types of learning in other organisms very simple as viruses or bacteria , "the researchers conclude. So far, it is known that bacteria have an ability to adapt, but this occurs over several generations and responsibility rather evolution.Bibliographic reference: Romain P. Boisseau, David Vogel & Audrey Dussutour. "Habituation in non-neural organisms: Evidence from slime molds" Proceedings of the Royal Society B27 April 2016. DOI: 10.1098 / rspb.2016.0446 Geographical area: Europe Source:
Their study, published in the journal Proceedings of the Royal Society B ', could make science reconsider the primordial origins of learning that took place long before the evolution of life forms with brains.
A team of researchers at the Research Center for Animal Cognition at the University of Toulouse III-Paul Sabatier and the National Center for Scientific Research (CNRS, France) studied the slime mold 'Physarum polycephalum' and found that is able to reproduce a form of learning called 'habituation'.
The ability was discovered in an experiment in which scientists exposed two groups of that body to the task of overcoming different obstacles. The first group had to reach a food source through a 'bridge' with unknown but harmless substances (quinine and caffeine) and the second was simply to cross a 'bridge' unhindered.
After six days, the bodies that crossed quinine or caffeine behaved in the same way as the group did not face any substance, researchers say. In other words, they were able to learn that quinine and caffeine do not proved harmful.
The 'Physarum polycephalum' is an agency of the protists, which means they are neither plants nor animals, and fungi. These primitive eukaryotes first appeared 1.5 million years ago. Now research opens up the possibility of seeking other types of learning in very simple organisms such as viruses or bacteria.